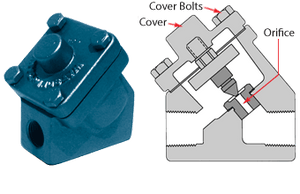 Watson McDaniel Thermostatic WT2500 Series
DRIP, TRACING, PROCESS: The WT2500* thermostatic steam trap is used for drip, tracing and process applications. Their compact size,excellent air handling capability and wide operating pressure range make them a great choice for most applications. Thermostatic traps are far superior to bucket traps and thermodynamic disc traps in their ability to remove air from the system.
* WT2501 refer to 3/16" orifice size, WT2503 refer to 5/16" orifice size. 
PDF Download: WT2500 Spec Sheet
---
We Also Recommend