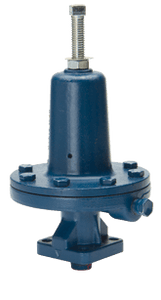 Watson McDaniel HD Regulator- PP Series Pressure Pilots
The PP & PP5 Pressure Pilots are used with the HD Regulator to control steam pressure in steam mains or for process equipment. Pilot-operated regulators maintain constant downstream pressure even when the inlet pressure to the valve fluctuates or steam usage varies. The PP-Pressure Pilot is adequate for controlling pressure in most industrial applications. For increased accuracy use the PP5 Pilot.
Features: 
The

 

PP-Pilot can maintain downstream pressure to ±1 PSIG
PP5-Pilot can maintain downstream pressure to ±0.5 PSIG
Choices of three overlapping pressure ranges
Pilot is easily installed on pilot adapter using four bolts, no tubing connections are required
Full port strainer and blowdown valve on pilot adapter for protection of pilot from dirt and scale
Solid floating diaphragm is more failure resistant
Watson McDaniel's pilots can be used with other manufacturers' regulators
Options:
Pressure pilot can be used with temperature pilot to eliminate the need for two separate regulators
Solenoid pilot can be added for remote on/off control of regulator
Controlling Pressure: The PP and PP5 Pilots are both spring-adjusted pressure pilots. The PP-Pilot is used on typical general purpose pressure reducing applications. The PP5-Pilot is used when higher accuracy is required and is capable of maintaining a control pressure window of less than 1 PSI.
*Click Here to Help Size Your HD Series Regulator*
PDF Download: PP Series Spec Sheet
---
We Also Recommend