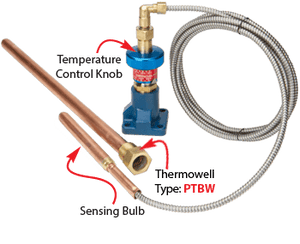 Watson McDaniel HD Regulator- PT Series PTBW Temperature Pilots
$1,11680

$1,116.80

Save $279.20
---
---
The PT-Temperature Pilots are used with the HD regulator to control temperature in various processes and systems. Some examples are: oil heaters, ovens, process heaters, vats, dryers and jacketed kettles. Thermostatic sensing bulb comes with standard 8-ft. or 15-ft. capillary lengths. Temperature adjustment is accomplished by rotating an adjustment knob to the desired temperature setting.
PTBW- Copper Bulb w/ Extended Thermowell: 
For deeper & variable insertion depths into tanks or vats; up to 18" deep. The extended length Brass Well Isolation Well isolates the copper sensing bulb from the liquid and allows the copper sensing bulb insertion depth to be adjusted to a depth of up to 18". Isolation Well remains in place which allows the removal of the sensing bulb without having to drain the tank.
*Click Here to Help Size Your HD Series Regulator*
PDF Download: PTBW Spec Sheet
---
We Also Recommend