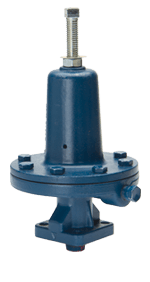 Watson McDaniel PBP Series Back-Pressure Pilots
The PBP-Back Pressure Pilot, used with the HD regulator, maintains upstream pressure in steam systems. These regulators are commonly used to supply flash steam to low pressure mains
Features: 
The PBP-Pilot can maintain upstream pressure to ±1 PSIG
Choices of three overlapping pressure ranges
Pilot is easily installed using four bolts. No tubing connection required
Full port strainer and blowdown valve on pilot adapter for protection of pilot from dirt and scale
Solid floating (no penetration hole) pilot diaphragm resists failure
Watson McDaniel's pilots can be used with other manufacturers' regulators
Pack Pressure: The PBP Back-Pressure Pilots are used with HD Regulators to maintain upstream pressures in steam systems. When the up stream pressure reaches the pilot set point , the regulator opens. The HD Regulator with a PBP Back-Pressure Pilot is commonly used to supply steam to low-pressure mains. The PBP Back-Pressure Pilot maintains a constant back-pressure on the inlet side of the regulator. Should not be used in place of a safety relief valve.
*Click Here to Help Size Your HD Series Regulator*
PDF Download: PBP Spec Sheet
---
We Also Recommend